October 6th 2022
The 100th Anniversary of the Naval Reserve will be celebrated in 2023. In preparation for this, we are gathering information and the histories of those who served in the Naval Reserve throughout its history.
The Naval Museum often receives personal histories from individuals who not only joined as reservists but whose stories also include personal anecdotes and details of their lives while also active reservists.
One such story is that of William Gunder Anderson, whose biography highlights not only his RCNVR training and experience beginning in the 1930s, but intermingles it with what he did as a civilian when not training - and leading to his service during the Second World War.
Such stories highlight the commonality of the experience of reservists over the almost 100-year history since Order in Council 139 was signed in 1923, which authorized the formation of the RCNVR.
William Gunder Anderson was Born on 13 November 1908 in Berthold North Dakota, and his family eventually settled in Lone Butte Alberta where he grew up working on the family farm as well as in Calgary and Red Deere.
Anderson joined the RCNVR on 3 July 1933 as Ordinary Seaman at the Calgary Half Company (now HMCS Tecumseh) and trained at Esquimalt. In 1933 he captained the team which won the Edwards Trophy on the 6-inch guns crew. In 1934 he returned to Esquimalt as a 2nd class stoker.
In January 1935 he sailed aboard HMCS Skeena for its winter cruise, calling at San Diego, Acapulco Mexico, Barbados, Port of Spain Trinidad, St. Johns Antigua, Malabar Bermuda, Manzanilla Mexico, and San Francisco. He trained further on HMCS Skeena in 1937.
Following the Skeena cruise in 1935, Anderson worked at City Battery station in Calgary for the summer, and also threshed at farms in High River. He returned to the Battery shop for the winter and most of the summer of 1936 and worked on the fire crew at Kananaskis Lake in late summer.
In the spring of 1939, he opened a business in Calgary until the war called him to duty in July 1940. He served in Esquimalt and Comox until October 1940, and on HMCS Malaspina until February 1941.
After his Machinery Training Establishment (M.T.E.) class in May 1941, he proceeded to East Coast on HMCS Kamloops where he served until May 1943. After a mechanics course in Windsor Ontario in May 1944, he was posted to Halifax at HMCS Peregrine and HMCS Stadacona until September 1944. He wrote his engineers exam in May 1945 and obtained a 3rd class 200 HP certificate. He was then posted to HMCS St. Boniface until June 1945 and was demobilized at Calgary in later that year.
Following the war, Anderson worked as an engineer in Alberta until he retired.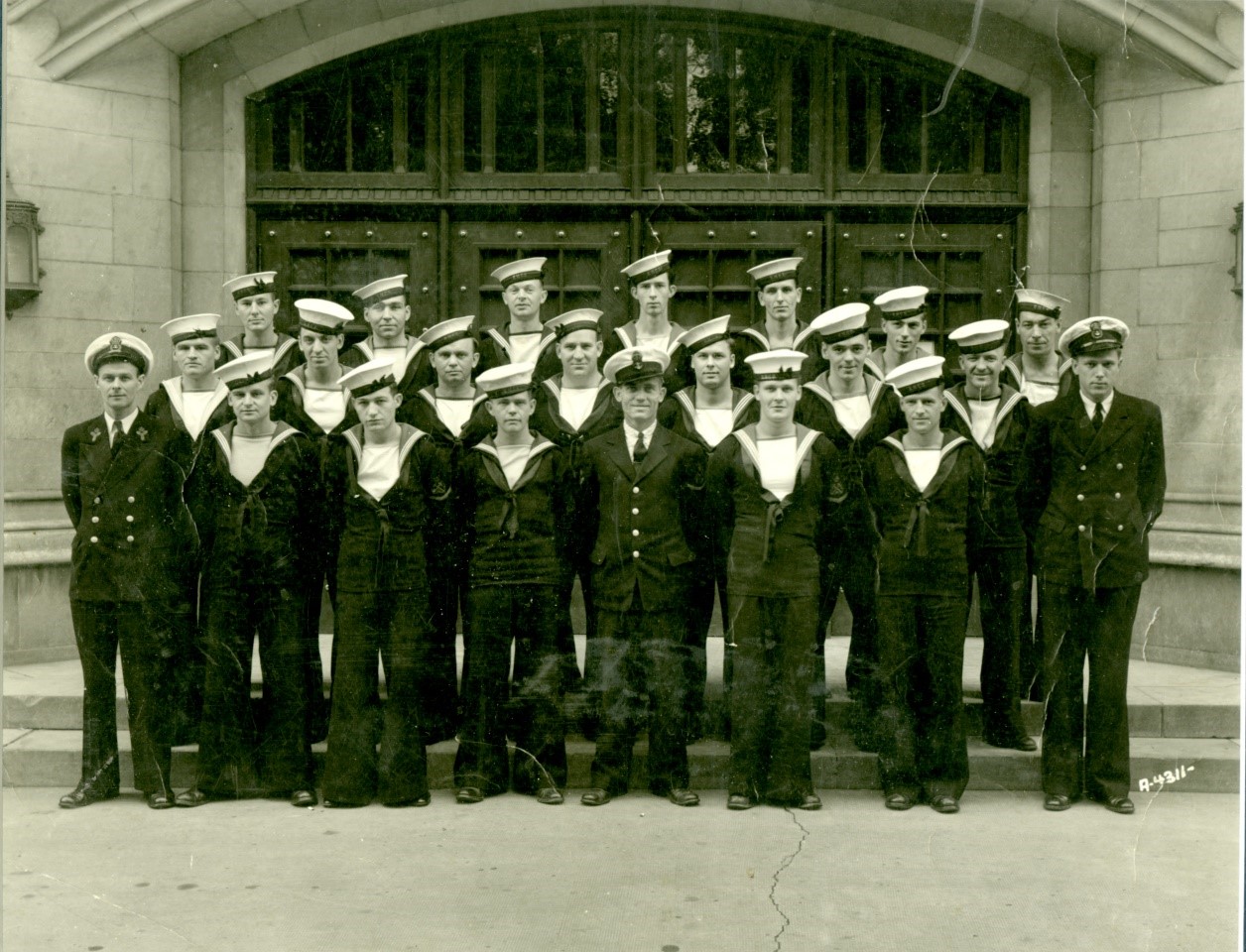 PO1 William Gunder Anderson (front row center) possibly with the M.T.E. School course at Stadacona (date unknown)
Among the material provided on Anderson is wonderful HMCS Skeena leather "Logalbum" containing photographs of Anderson's naval exploits from 1935 through to the end of the war, as well as personal images of places and people in his life. The collection is a great addition to the Naval Museum Archives.